I finally hit up
TheFaceShop
that opened recently in Hawaii. While it's a small store, it's incredibly well organized and amazing. I know I made that whole post on how education is expensive and how I have to save money...but, omg, my obsession with nail polish and makeup knows no bounds. I've already given in and bought the complete
essie Dive Bar
collection off eBay (a post will follow once I get the order in)and three CG nail polishes so I wasn't too keen on spending a lot of money. ...but it was
so
tempting.
I ended up buying two items, the
Herb Day Lemon Cleansing Foam
and
Lovely ME:EX Make-Up Base
in violet...which cost me a total of $10.47! They were $5 each and completely worth it (so far) in my opinion. Like a true Korean beauty shop, they threw in some free samples. I'll definitely be going back for the
Strawberry Smoothie Mask Pack
I wrote about in the last post which retails for $14.
Also, I went through their offering of nail polishes ($8 each) and came across this beauty. It's a black based polish that flashes all the colors of the rainbow--so gorgeous! Since I couldn't justify buying it after purchasing the China Glaze polishes below...I'll be going back for it...or heavily bidding for it on eBay (should it be cheaper).
Since today was also a hair cut day (which means driving all the way out to Aiea), I usually go through their China Glaze collection. Now, I went in for neons but left with none (thinking I'll buy some from the CG summer neon collection coming out soon) but did leave with two glitters.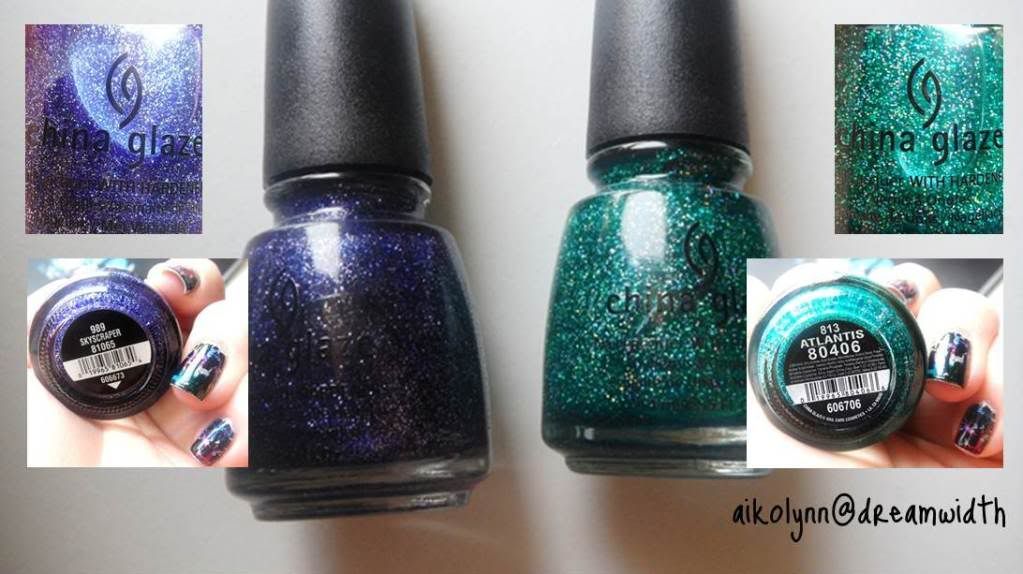 Skyscraper
is from the Fall 2011
Metro
collection while
Atlantis
was released in 2009 as part of the
Specialty Collection
. Skyscraper is a more muted blue packed with silver microglitter while Atlantis is a teal packed with holographic microglitter. I'm definitely excited to wear these! I know I could find these cheaper on eBay, but I do feel the need to support the salon since I go there so often. I discovered they also sell Color Club and some Nubar (it's very very limited though). I was also tempted to buy
OPI Ink
(I remember Janelle has this and it's gorgeous), but put it back for a later date. I'm still working on that polish wish list...and it just keeps getting longer!
--Cheryl