aikolynn
FINAL POST OF THE NIGHT--I promise! So...I posted about
Crows Toes Nail Color
a few weeks back and my order came in today! I wasworried it was forgotten since my tracking showed no movement other than "Electronic Shipping Information Received." I contacted thecreator and she assured me it was sent (emailed me back in minutes!). Lo and behold it showed up at my doorstep today with the mailman. Seriously, when you're sick, a package in the mail is like Christmas. I tore into it and, goodness, the awesome shinies (SHINee?)! However, I also received an email saying she forgot to mix one of the glitters into
Cheshire
and would be sending a replacementfor it in the coming week. Hell,
Cheshire
is gorgeous in its apparently incomplete state so I cannot imagine how much moreawesome it will be once I get the replacement! I'm itching to wear
Absolum--Your Potions Master
. ITCHING. This is the problem whenyou get so many new polishes at once--you keep wanting to change it! (and the appeal to my
Alice in Wonderland
obsession!)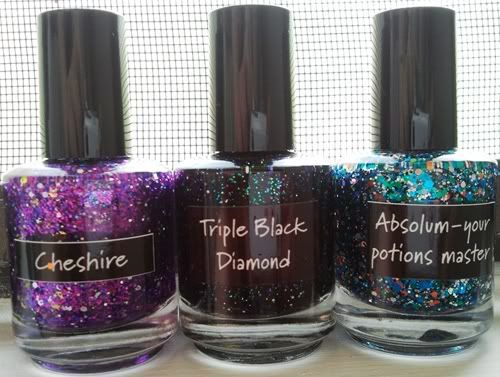 Full Size Images:
Cheshire
,
Triple Black Diamond
,
Absolum
Look forward to mani images of these in the near future!
Crows Toes Nail Color
is scheduled for another restock next Friday, June 15th! Go
here
to purchase and
here
to stay informed! These retail at $12 each, shipping not included.
--Cheryl